George created this website to highlight the best things to do in the Cayman Islands.
He was born and raised in Cayman, meaning that this online guide is kept up-to-date with the most accurate local knowledge available. 
He also founded a watersports company, giving him valuable experience in the Cayman tourism industry; this translates into reliable coverage of Cayman's best activities, described throughout this website. 
1.  Stingray City Tours | Swim & Feed Wild Stingray
Our 5-hour tour goes to Stingray City, Snorkeling at the Barrier Reef, Rum Point, Starfish Point and the Mangrove Forest. This is the ultimate small group excursion, never taking more than 12 guests per tour. Other companies take up to 40 people per tour. This is a great way to see highlights of Grand Cayman, all in a single outing. We use a 30-foot center console speed boat, meaning that you will get to each location quickly, allowing you to spend more time there, and less time getting there. We also offer free transport if you don't have your own vehicle.
Family Friendly
Beginner Friendly
Top Rated
2. Bioluminescence Tour In The Bio Bay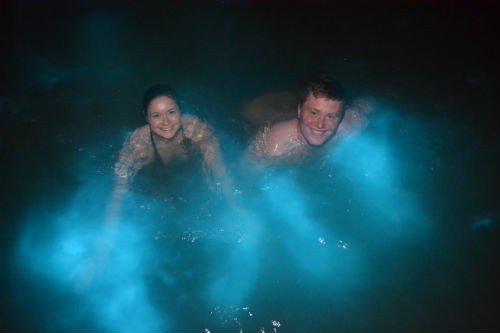 Grand Cayman is one of only a few locations world-wide where you can do a bioluminescence tour. This is a 2 hour excursion at night. We take a boat to the bioluminescent bay, and then you snorkel with the bioluminescence. You don't have to go into the water to see it, but the visibility of the "bio" is significantly better in the water with a snorkel and mask. Some companies do this tour on kayaks, however, we recommend that you experience it on the boat version of the tour.
Night Time Activity
For the Adventorous
Most Unique
3. Paddle Boarding Seven Mile Beach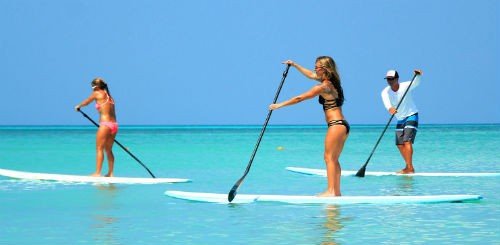 We are the number one stand up paddle board rental company in Grand Cayman. We offer free delivery and pickup. Simply call or email us, and we will deliver them directly to your hotel or condo. Paddle boarding is the fastest growing water sport, and is a great family activity. Many people rent boards from us for an entire week.
10% discount if you rent two or more boards
Free delivery and pickup
Height adjustable paddles and life jackets
Our private charters are great for anyone looking to get away from the crowds. Our company's charters are completely customizable, allowing you to choose exactly where to go, and how long to spend at each stop. There is a wide variety of locations to visit, such as: Stingray City sandbar, mangrove forest, snorkeling at the barrier reef, Starfish Point and Rum Point.
Free pickup from hotels, condos and cruise port
Complimentary drinks
Snorkel gear and life jackets included
Snorkeling in the Cayman Islands is a great way to see a wide variety of marine life. Cayman is famous for warm, clear waters, allowing for an amazing snorkel experience. Click to see the best snorkel tour in Grand Cayman. This excursion takes you to the world famous barrier reef. This is the most popular spot on island, since it has a wide range of coral types.
Professional Guides
Complimentary drinks
Snorkel gear and life jackets included
Parasailing is quickly becoming one of the most popular activities in the Cayman Islands. This excursion takes place on Seven Mile Beach which is where the vast majority of hotel and condo overnight tourist stay. Our parasailing trips pick customers up by boat directly at their condo/hotel on SMB. No experience is required to do this activity, but it is not recommended for people who are scared of heights! You can reach heights of up to 500 feet, and are in the air for 8 to 10 minutes. Parasailing is great for people who enjoy more intense activities.
Professional Crew
No Experience Required
Quality Boat
Another benefit of this tour is that you will have the opportunity to gaze at the stunning night sky and absorb the beauty of the stars. The stunning contrast of the view of the stars from Grand Cayman, which is away from city lights compared to larger metropolis areas is truly remarkable. If you are lucky, you may also be able to make a wish on a shooting star. It is incredible to experience the sensation of swimming through the sparkles, which is like swimming through the stars, and then looking up and seeing the stunning stars above you.
The location of our tour makes it unrivaled in convenience and offers the best value for money, on top of great customer service. During our Grand Cayman bioluminescence tour, our crew enjoys sharing their wisdom about the island. We can collect you from your hotel or condo and take you to the docks and this service is complimentary to the tour. Other companies on island, do not provide this free pick up service and are not located at a convenient location from Seven Mile Beach, thus making our tour the best option. Our primary aim is to provide a quality service and enrich everyone's understanding of the Cayman Islands ecosystem, while having a fantastic experience on the water.
Seeing this is a once in a lifetime opportunity and not many people have been fortunate enough to see this amazing phenomenon. This activity is perfect for family and friends who want to do something safe, accessible to everyone and unforgettable. There is nothing more exhilarating then swimming at night through millions of bright sparkles and this activity is consistently viewed as one of the top must do activities in Grand Cayman.