Rum Point Snorkeling Guide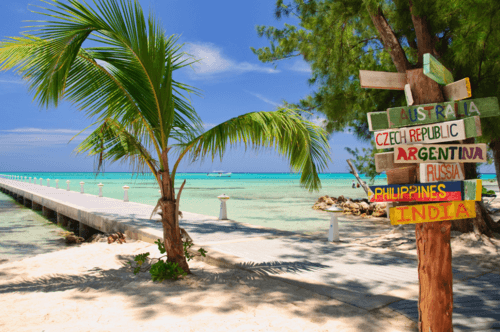 Rum Point is located on the very peaceful North Side of Grand Cayman, the largest of three islands making up the Cayman Islands.
Rum Point is a soothing place to spend the day.
It is about an hour drive from Seven Mile Beach to Rum Point. The long drive to the North Side of the island, adds to the adventure and relaxing journey there.
Listening to the cool Caribbean breeze, while swinging on a hammock or lying on a beach chair, or just on the sand itself, is a fantastic way to chill before and after your snorkel.
Taking time to relax on a tropical island paradise is exactly why people visit Rum Point and its location on the remote North Side of Grand Cayman contributes to its exotic feel.
If you are a complete beginner, then you are better off doing a guided trip, since it could be dangerous snorkeling by yourself without any experience. Click the "Continue" button below to be taken to a page showing the best snorkeling trip in Grand Cayman:

Snorkeling at Rum Point is a great trip to do with your friends and family. The water is normally very calm because the area is sheltered from the barrier reef and the coast. The water is also relatively shallow, so many people can stand and the deepest areas are 3-4 meters deep. Rum Point is a great place to snorkel if you a beginner. There is also a designated snorkel and swimming area. If you snorkel within these barriers, it is very safe because boats are not allowed to cruise within the barriers. This makes Rum Point a great place for young children to learn how to snorkel or those who are nervous of snorkeling in the open water. The sheltered snorkel spot makes it easy and not too strenuous. There is not a strong current and there are plenty of people on the shore, due to the restaurant, which makes it a safe location. The snorkel area is also very accessible. If you are driving to Rum Point, you can easily park your car at the large car park and walk to the beach and directly from the shore enter the water to snorkel. It is also possible to arrive at Rum Point via boat. Many people anchor just offshore and then walk or swim into shore.
Snorkeling at Rum Point is fantastic because it is possible to see many different species of fish, coral and sea life. The calm waters allow for a very relaxing snorkeling experience because you do not feel like you are fighting against any large waves or currents. This is a huge benefit because it can be exhausting if you feel like your snorkel is too strenuous. This makes Rum Point a great place to snorkel if you are interested in a calm and relaxing day by the beach.
Rum Point is very close to the Stingray Sand Bar, which means that many boats and tours leave from the Rum Point dock, taking visitors to see the stingrays. Also, you can very often see stingrays while snorkeling off Rum Point due to the proximity to the sand bar. This is very exciting because the stingrays are very beautiful and graceful. Snappers, starfish, jacks and other small tropical fish can be seen at Rum Point. It is possible to find many pretty shells at Rum Point during your snorkel. Due to the calm water, many of the shells are not broken and remain whole. Thus, making them stunning to see and great memories to collect.
Rum Point has an authentic Caribbean style restaurant, which is ideal for a snack or meal after this snorkel stop. Stop here, and you can try locally caught fish and other Caymanian delicacies. There is also plenty of food choice for those who would prefer a burger, sandwich and other delicious treats. People enjoy resting at Rum Point before and after their snorkel because the atmosphere is so tranquil and the food is divine. Rum Point is home to the island famous mudslide. A mudslide is a delicious icy cocktail. It is similar to a chocolate milkshake with a little rum added into it. It is a fantastic drink to sip on the beach to cool down, especially if you are tired and need to re-hydrate after your snorkel. The staff at Rum Point are friendly and professional, they can give you tips and advice on where else you should go snorkeling and they will make sure you that are enjoying your visit.
Going snorkeling at Rum Point is a great activity to do because you can combine it with other activities on the North Side of the island and seeing this part of the island is spectacular. North Side is very quiet and not as developed compared to George Town and the West side of the island. It is definitely a more authentic experience and provides you with a taste of what Grand Cayman used to be like in the past before all the development on the island.