Free Delivery When You Rent Bikes With Us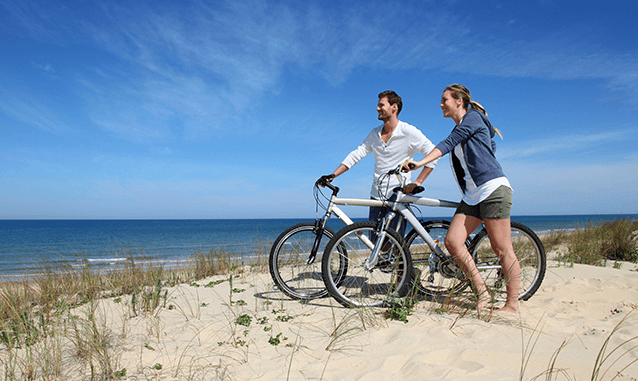 Below are details regarding the best bike rental service in the Cayman Islands.
We have hand-picked the best bicycle rental company in Grand Cayman. They offer high quality bikes, at competitive rates.
They accommodate tourists vacationing in Grand Cayman. There is an availability form below which when completed, sends directly to the rental company; they will then respond within 24-hours.
Renting a bike in Grand Cayman is a great way to explore the island. Cayman is very safe and the roads are in good condition, meaning that you have nothing to worry about.
Bike Rental Rates Below:
Cruiser bike rental $140 US /week or $40 US/day
Hybrid bike rental $225 US/week or  $60 US/day
Road bike rental $300 US/week or $100 US/day
Free Delivery & Pickup
High Quality Reliable Bicycles
Helmets & Accessories Included
Grand Cayman Is Safe To Explore On Bike
Check Availability
Complete The Quick Form Below To Check Availability For Bike Rentals:
Our hand-picked bike rental company always responds within 24-hours; if you submit the below availability form and you don't receive a response from them within 24-hours, you most likely made a mistake and it didn't send.

---
If you would like to find the best Grand Cayman bicycle rental company, here are a few reasons why you should contact our business.
Why Grand Cayman Is Such A Beautiful Vacation Destination
Of all of the Cayman Islands, of which there are three, Grand Cayman is the most popular. It is a location that is often featured in magazines, and you will understand why once you arrive. There are a multitude of activities that you can do which will keep you preoccupied the week you are there. Even if you decided to stay longer, you would never be bored because of the many excursions that you can go on during your vacation.
Why You Should Rent A Bicycle in Grand Cayman
The west portion of the Cayman Islands is the most popular. It includes many popular locations. This would include Seven Mile Beach which is just north of George Town. It is this section which also contains most of the rentals and condominiums that people will stay at while they are there. If you ride all the way to the top of the west portion of the island, you will arrive at Barkers National Park.
You could then head over to Bodden Town and Breakers, and then head north up to Rum Point. Although the island is relatively small, traveling over to the middle and eastern portions of the island can be quite a bike ride. You should find a company that also offers a pickup and drop-off service. These are factors to consider as you are choosing one of the bicycle rental companies that is on Grand Cayman that can help you see as much of the island as possible.
How To Choose The Right Bicycle Rental Company In Grand Cayman
Our company has already chosen the most reliable and professional bike rental company in Grand Cayman.
If you have not been to Grand Cayman before, you will definitely enjoy your trip. After you have done many of the water-based activities, you might want to spend time on land. Instead of the beach, you should consider renting bicycles so that you can see this beautiful island. You will be able to rent a bicycle for a single day, or you could get discounts on the entire week. There will be different bicycles to choose from, allowing you to ride in comfort throughout Grand Cayman on your vacation. By contacting our bicycle rental company, you will get access to the best bicycles at prices that are affordable.