If you are planning on a vacation to the Cayman Islands, and you are staying on Grand Cayman, you should consider doing the many activities that are available. This will include fishing, boating, snorkeling, and swimming with unique and exotic aquatic life. There are also activities that you can do on land. One of the most popular is riding a bicycle. If you would like to find the best Grand Cayman bicycle rental company, here are a few reasons why you should contact our business.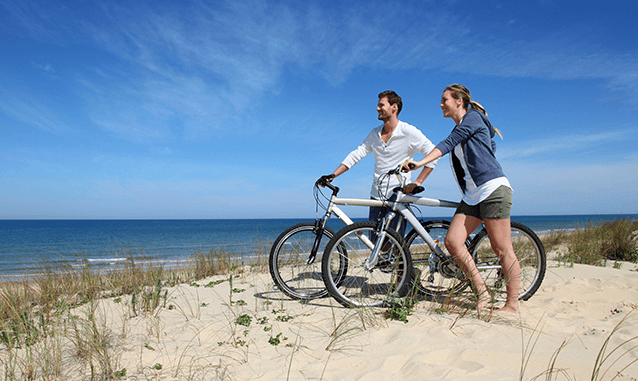 Why Grand Cayman Is Such A Beautiful Vacation Destination
Of all of the Cayman Islands, of which there are three, Grand Cayman is the most popular. It is a location that is often featured in magazines, and you will understand why once you arrive. There are a multitude of activities that you can do which will keep you preoccupied the week you are there. Even if you decided to stay longer, you would never be bored because of the many excursions that you can go on during your vacation.
What Type Of Activities Should You Consider Doing?
One of the most popular activities is to swim in the water with the stingray at stingray city. These creatures are very docile. This location became a popular destination for the stingray when fishermen use to dump the remains of fish at this location repetitively. This conditioned the stingray to return to the spot, and it is now a favored tourist attraction. You can also swim in waters off of Grand Cayman with bioluminescent organisms. You will literally glow in the water, surrounded by these organisms that will produce a blue light because of a chemical process. There are land based activities that are also available including renting bicycles to tour the island.
Why You Should Rent A Bicycle On Grand Cayman
The west portion of the Cayman Islands is the most popular. It includes many popular locations. This would include Seven Mile Beach which is just north of George Town. It is this section which also contains most of the rentals and condominiums that people will stay at while they are there. If you ride all the way to the top of the west portion of the island, you will arrive at Barkers National Park. You could then head over to Bodden Town and Breakers, and then head north up to Rum Point. Although the island is relatively small, traveling over to the middle and eastern portions of the island can be quite a bike ride. You should find a company that also offers a pickup and drop-off service. These are factors to consider as you are choosing one of the bicycle rental companies that is on Grand Cayman that can help you see as much of the island as possible.
How To Choose The Right Bicycle Rental Company In Grand Cayman
When you choose a bicycle rental company, it will likely be on this side of the island. Many of these companies will have over 100 bicycles that you can choose from. You will get to see the beautiful areas where there are hedgerows, farmland, and the beaches on the West Coast. They will provide you with a helmet, a high visibility vest, maps, and the bicycle of your choice. The one that you choose is going to be a company that is highly recommended online. You may also have a friend that has recently done some bicycling while they were recently there. The other possibility is that you could simply rent bicycles from our company. We will provide you with an exceptional deal and quality bicycles that will help you tour the island without any problems.
If you have not been to Grand Cayman before, you will definitely enjoy your trip. After you have done many of the water-based activities, you might want to spend time on land. Instead of the beach, you should consider renting bicycles so that you can see this beautiful island. You will be able to rent a bicycle for a single day, or you could get discounts on the entire week. There will be different bicycles to choose from, allowing you to ride in comfort throughout Grand Cayman on your vacation. By contacting our bicycle rental company, you will get access to the best bicycles at prices that are affordable.