Kitesurfing Lessons Grand Cayman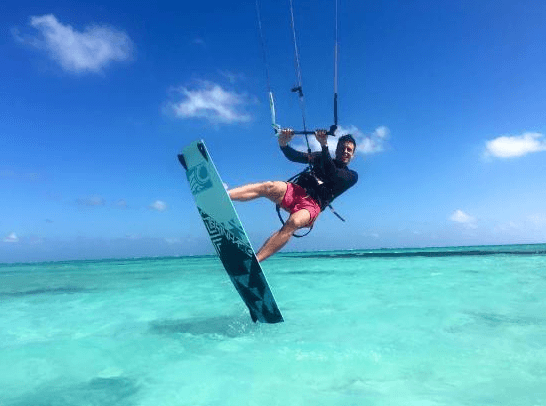 We have hand-picked the best kitesurfing operator in Grand Cayman. They offer lessons and equipment rentals.
They accommodate tourists vacationing in Grand Cayman. There is an availability form below which when completed, sends directly to the kitesurfing company; they will then respond within 24-hours.
They are based in Barkers beach, Grand Cayman. This is about a 10 minute drive North of Seven Mile Beach, and a 20 minute drive North of the cruise ship port in George Town.
They accommodate tourists on a daily basis; both cruise ship passengers and over-night hotel/condo guests.
Below is a video showing our kite surfing:
This is an activity that is best suited to people who have a basic level of fitness.
You do not need to be an athlete, but at the same time, you cannot be over-weight and expect to be able to last a long time on the water, especially if it's a windy day.
Our company works with a great selection of kite-surfing professionals who have years of experience between them. They are from both the USA and Cayman, and they will make sure that you have a great time. We value your safety, which is why we carefully selected this kitesurfing company.
Kitesurfing Lesson Rates Below:
Private Lesson (1 on 1):
2 hours – $260 USD
8 hours – $980 USD
Semi-Private Lesson (1 instructor with 2 students):
2 hours – $150 USD per person
Free Transport For Hotel/Condo/Cruise Ship Guests
Experienced & Qualified Instructors
High Quality Equipment
Beginner & Advanced People Welcome
Check Availability
Complete The Form Below To Check Availability & Rates For Kitesurfing:
Our hand-picked kitesurfing company always responds within 24-hours; if you submit the below availability form and you don't receive a response from them within 24-hours, you most likely made a mistake and it didn't send.