In this article, we review kitesurfing at Barkers Beach in Grand Cayman, Cayman Islands. Kitesurfing is a water-based activity that has grown in popularity over the last decade. 
What is kitesurfing?
Kitesurfing, also known as kiteboarding, is a water sport where people glide across the surface of the sea on boards, propelled by the wind.
Kiteboarders hold onto ropes that are attached to a kite, which captures the wind, propelling them forward.
Where can you kitesurf in Grand Cayman?
The best place to kitesurf in Grand Cayman is at Barkers Beach in West Bay.
This is located on the west side of Grand Cayman, at the very northern end of West Bay.
The reason why the kitesurfing here is so good is because the prevailing wind direction comes from the North-East direction, meaning that Barkers Beach consistently has strong breezes, which create ideal conditions for kitesurfing.
It is only about a 10 to 15 minute drive from Seven Mile Beach to Barkers Beach, and a 25 minute drive from the cruise ship port in George Town.
Below is a video showing people kitesurfing at Barkers Beach:
Which company should you kitesurf with?
The best kitesurfing company in the Cayman Islands is "Kitesurf Cayman".
They offer both lessons and rentals, and operate from Barkers Beach in Grand Cayman.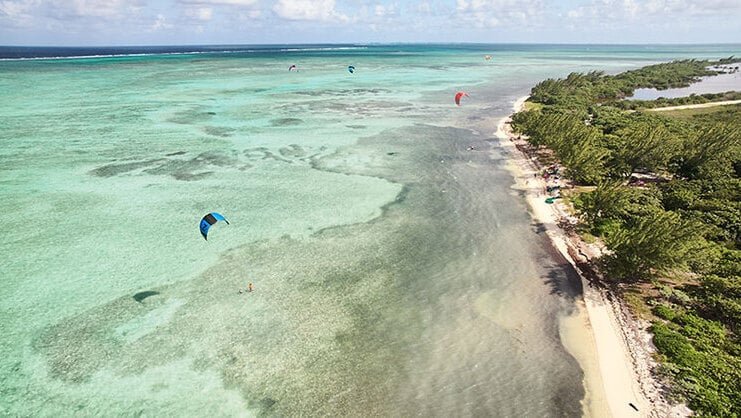 They also offer free pick up, so if you are staying in a hotel or condo, or even arriving as a cruise ship passenger, then they can pick you up for free!
You can check out their website here!
Below is a Google Map showing the exact location of Kitesurf Cayman:
Can anyone kitesurf?
Kitesurfing requires a lot of balance, coordination and overall fitness.
This activity is best for people that don't have any physical disabilities that would prevent them from swimming or being in physically exhaustive positions for prolonged periods of time.
If you have existing injuries or back issues, then this is probably not a good activity to try.
How much does it cost?
If you already know how to kitesurf, then you can rent gear for less than $100 USD.
If you have never kitesurfed before, then you will need to pay for private lessons. These can be quite expensive, starting at $280 USD for a 2-hour private intro lesson.
You can see updated pricing on Kitesurf Cayman's website.
Final thoughts
If you are vacationing in Grand Cayman, and the wind conditions are right, then you should definitely try kitesurfing at Barkers Beach.
If you are looking for other things to do, then you can check out our list of the top 25 things to do in Grand Cayman!