In this article, we review the "Aquarium" snorkel spot in Grand Cayman, Cayman Islands.
What is the Aquarium?
The Aquarium is the best snorkel spot in North Sound Grand Cayman.
The Aquarium is about 100-yards in diameter, and has a very high density of coral and fish. The Aquarium is not directly on the Barrier Reef. It is about 80-yards away from the Barrier Reef.
Most people don't know about this spot because most companies don't go here on their tours. The Aquarium isn't close to their typical tour routes, meaning that they don't want to spend extra money on fuel to travel the distance.
You will see a wide variety of marine life here, such as: stingrays, eels, turtles, fish and lobsters.
Where is the Aquarium located?
The Aquarium is located at the north-end of North Sound in Grand Cayman.
North Sound is a small section of sea in the center of Grand Cayman that is about 5-miles wide. There is a Barrier Reef that extends along the outskirts of North Sound.
It is about a 10-minute boat ride from Stingray City to the Aquarium.
Is the snorkeling good at the Aquarium?
Yes, the snorkeling is very good at the Aquarium.
There is a very high density of healthy coral and fish, as well as other marine life such as turtles, conch, lobsters & stingrays.
Below is a video that shows snorkeling at the Aquarium (1.16 to 1.53):
Can you snorkel from shore?
No, you cannot snorkel from shore. You need to take a boat to reach the Aquarium.
The Aquarium is about half a mile offshore. This is too far to swim. It can also be rough sometimes, meaning that it would be dangerous to swim.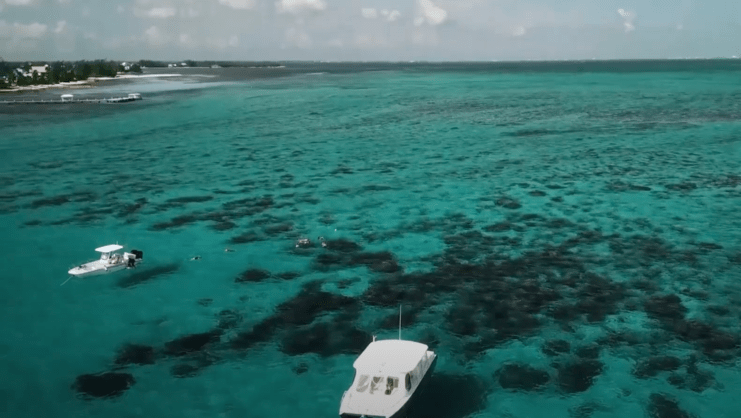 Even if you were able to swim from shore to the Aquarium, it would still be a bad idea because there are a lot of boats in the surrounding area. You could be hit by a jet ski or boat as you are swimming to the Aquarium from shore.
What is the best way to get there?
If you want to snorkel at the Aquarium, then you need to take a boat to get there.
George's Watersports is a tour company in Grand Cayman that offers snorkel tours. Their "5-stop stingray eco tour" includes snorkeling at the Aquarium as one of the stops.
Can beginners snorkel here?
Beginners can snorkel here, but it depends on which company you go with.
Some companies, such as George's Watersports, put a floating life ring and rope into the water. You can hold onto the rope whilst you snorkel. The rope is attached to the boat, meaning that you can hold on and you won't drift away.
Sometimes the current can be very strong at the Aquarium, meaning that you need to hold onto a rope to safely snorkel.
George's Watersports also offers their guests life jackets and floating noodles. This is necessary for someone who has never snorkeled before.
If you go to the Aquarium with a company that doesn't use the equipment mentioned above, then it would be dangerous for a complete beginner to snorkel.
How deep is the water?
The water at the Aquarium is about 10 to 15 feet deep.
You cannot stand up, but if you are a good swimmer, then you can probably dive to the bottom and touch the sea-floor.
Certain areas near the Aquarium are very shallow, so you should only take your boat here if you know exactly where you are going.
Final thoughts
The Aquarium is the best snorkel spot in Grand Cayman, and is a must-do trip for tourists that are on vacation.
If you want to snorkel at the Aquarium, then you should book the "5-Stop Stingray Eco Tour" with George's Watersports. They snorkel at the Aquarium during this tour.
If you are looking for other snorkel spots, then check out our article where we review the top 25 snorkel spots in Grand Cayman.