Coral Gardens Snorkeling Grand Cayman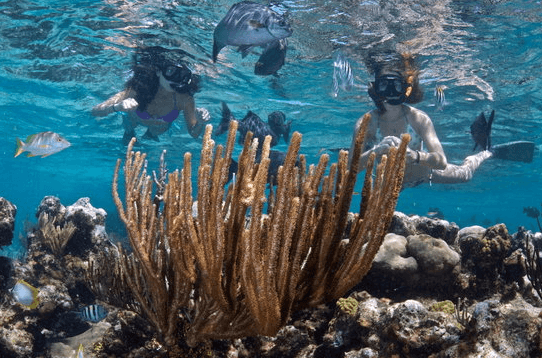 Coral Gardens is a snorkel spot near Stingray City in Grand Cayman.
A lot of stingray operators go to Coral Gardens because it is close to Stingray City, but there are actually a few coral areas that offer superior snorkeling.
Click the "continue" button below to be taken to a page on this website that shows a tour that goes to this superior snorkel location:


---
To reach coral gardens, you need to join a tour group or privately hire a boat.
It is located in North Sound, which is a body of sea water about 5 miles in diameter, in the center of Grand Cayman.
North Sound is sheltered by a magnificent reef, which makes a great place to snorkel because the water tends to be really calm and the reef protects the snorkel area from large rolling waves.
It is recommended to join a tour group to get there because you cannot swim safely from the shore to this snorkel area due to boat traffic across North Sound. There tends to be many different tour operators taking tourists there because it is a popular snorkel spot, therefore in high season be prepared that there may be other boats there too.
However, early morning or during low season, it is possible to visit this snorkel spot and enjoy it without large crowds. A benefit of visiting early morning is that the fish are the most active and may be feeding.
Coral gardens has a large variety of tropical fish.
The water is about 10 feet deep, crystal blue and the perfect temperature. Therefore, it is possible to easily view all the different fish species and not be worried about the temperature of the water.
Due to the protection of the reef, many people feel comfortable snorkeling here because it feels enclosed and safe. However, if you are not a strong swimmer, consider wearing a life jacket or take a flotation device like a noodle with you because the water is deep and you are unable to stand up.
Many tour companies provide flotation devices for people to help them snorkel there safely.
At Coral Gardens you can expect to see large coral heads. The large grouping of different clusters of coral, attracts large populations of tropical fish. There are many different species of parrot fish, jacks, snappers and other fish.
A common question is which is better Coral Gardens or Barrier Reef in Grand Cayman? The answer is they are about equal.
Occasionally, you may be able to spot a large turtle, eagle ray, an eel or barracuda. However, these fish are not as common compared to the other tropical fish you may see there. Southern stingrays frequently swim through Coral Gardens because it is located near the Sand Bar where all the stingrays live.
Coral Gardens Grand Cayman map is not something you should bother looking for since only tour operators on a motor boat will know how to find.
Seeing stingrays gracefully glide through Coral Gardens is spectacular because they are away from the crowded tourist spot of Stingray City and they very often bury themselves under the sand here to rest and sleep.
When you visit Coral Gardens make sure you bring water, snacks, sunscreen, a hat and swimming stuff. You will not be able to buy anything once you arrive at this snorkel spot.
So bring everything you need with you on the boat. It is possible to take many stunning photographs here, so bring a waterproof camera. If you don't have one, you can buy a disposable one at the local supermarkets on Grand Cayman.
Other Snorkel Sites: