Eden Rock Snorkeling Guide
Eden Rock is located at the southern end of Georgetown, Grand Cayman.
The best way to get to this snorkel spot is if you start from Eden Rock dive center or by Paradise Restaurant where you can swim out to the rock, which can be seen from the shore.
The location of this snorkel spot makes it so convenient and easy to get to. If you are only in Grand Cayman for a short period of time, it is worth visiting this area because it is very close to the cruise ship terminal (if you have arrived via cruise ship) and is also one of the most well-known snorkel spots on the island.
If you have not rented a car, it is possible to take a local bus into George Town and it is only a 8-minute walk from the bus station to Eden Rock dive center or Paradise Restaurant, where you can easily enter the water and begin to snorkel.
The sea access is well maintained and it is easy to use the ladders to enter the sea.
Video Of This Snorkel Location
If you start your snorkel from Eden Rock Dive center, it is possible to rent a locker to store your gear for about $5. They also have showers and clean facilities where you can go to the toilet, change and rinse all the salt water off-of yourself.
The staff here are very friendly and helpful which adds to the snorkeling experience, because you don't want to have to deal with bad customer service which can potentially ruin a trip. Therefore, the nice attitude of everyone working here is a huge added bonus and adds to why snorkeling at Eden Rock is so popular. Many people also enjoy grabbing a bite to eat at Paradise Restaurant which serves excellent food and drinks, so is a great place to go to for food after your snorkel because you may have worked up an appetite due to the exercise of snorkeling.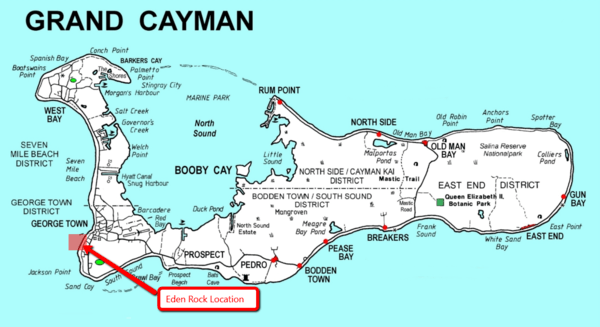 If you are a complete beginner, then you are better off doing a guided trip, since it could be dangerous snorkeling by yourself without any experience. Click the "Continue" button below to be taken to a page showing the best snorkeling trip in Grand Cayman:

The clarity of the water is breath taking considering it is near to George Town Harbor. The lack of pollution and the cleanliness of the water in the Cayman Islands, really makes snorkeling in Grand Cayman a superb place to do it and learn if you have never done it before. The water is deep, but not so deep that you cannot see anything. The coral formations here are enormous because they are very ancient and have the depth of the water to grown in.
Snorkeling in Grand Cayman is a fun and active activity. It is free of charge which is unusual on the island as it is typically very expensive on Grand Cayman. It is also environmentally friendly to go snorkeling in Grand Cayman because you do not use any electricity and if you are careful not to litter and touch the coral, you will not damage the environment in which the animals live. It is also fantastic exercise to swim to Eden Rock and because it is so amazing to see all the fish, you will not even notice that you are doing a great workout!
If you snorkel at Eden Rock you are bound to see crowds of sergeant majors and yellow tail snappers, some of the many brightly colored fish found at this famous location, thus making it one of the most popular places to snorkel in the Cayman Islands. There is so much to see here that you can spend easily over two hours swimming around and enjoying spotting all the different kinds of fish. It is great to buy a fish guide book because then you can really follow and find out more about the fish you see at Eden Rock. Sometimes people have spotted nurse sharks at Eden Rock which are a harmless share species and they tend to shy away from humans. When you swim out to Eden Rock, you are very likely to come across very large tarpon which can reach a large size of six feet long. Initially they may be frightening to see due to their large size, however they are harmless and shy. They are very peaceful and calm fish despite their appearance. It is possible to see lots of different kinds of parrot fish, groupers and angel fish at Eden Rock, making it one of the islands greatest and most varied snorkel sites, which is amazing due to its convenient location in Georgetown.