In this article, we review the snorkeling at Spotts Beach in Grand Cayman, Cayman Islands. This is a great beach that most tourists don't know about. 
Where is Spotts Beach located?
Spotts Beach is located on the south side of Grand Cayman. It is about a 20 minute drive east from George Town.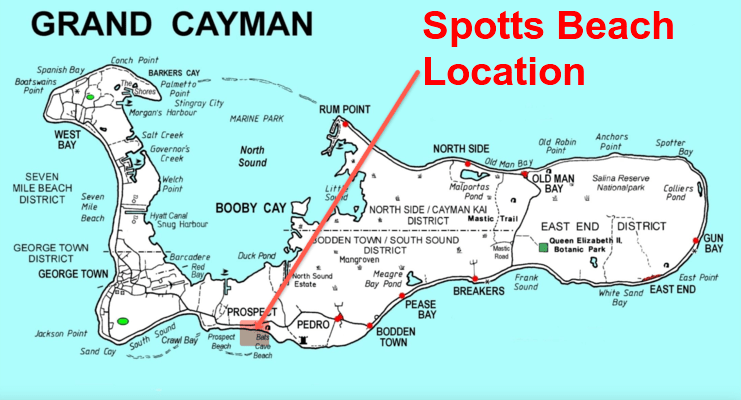 Most tourists don't visit Spotts Beach because it isn't close to Seven Mile Beach, but if you are renting your own car, then it is worth visiting.
We recommend that you use Google Maps before leaving so that you know where to go.
Is the snorkeling good at Spotts Beach?
Yes, the snorkeling is good at Spotts Beach.
Spotts Beach is famous for wild sea turtles. You have a good chance of seeing turtles here whilst snorkeling from shore. Even if you don't snorkel, you could still potentially see turtles from the beach as they surface to breath.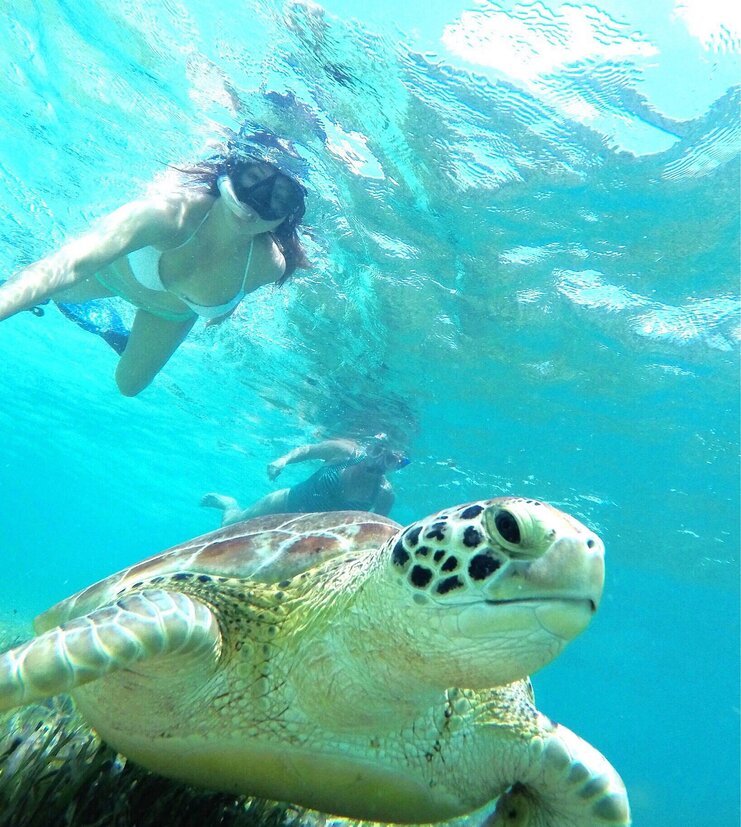 There is also a barrier reef that surrounds the coast at Spotts Beach. This barrier reef has a lot of coral and fish.
Can you snorkel from shore?
Yes you can snorkel from shore at Spotts Beach.
The issue is that it is about a 100 yard swim from shore to the barrier reef, meaning that you should only attempt this snorkel spot if you are an experienced snorkeler. This is too far of a swim for complete beginners.
Also, you should only snorkel to the barrier reef if you are with at least one other person, so that if something goes wrong, you have someone to help.
You should also only snorkel here if you have a floating snorkel buoy. This will allow boats in the area to see you and avoid you. There are not a lot of boats in this area, but you don't want to take the risk of being hit by a boat.
You can check out our article here where we discuss the best places in Grand Cayman to rent snorkel gear from. You can rent floating snorkel buoys and other snorkel equipment from these shops.
Below is a video showing Spotts Beach:
Can beginners snorkel here?
Spotts Beach is not a good snorkel spot for complete beginners.
The fish and coral are found at the barrier reef which is about a 100 yards offshore. This is too far of a swim for beginners.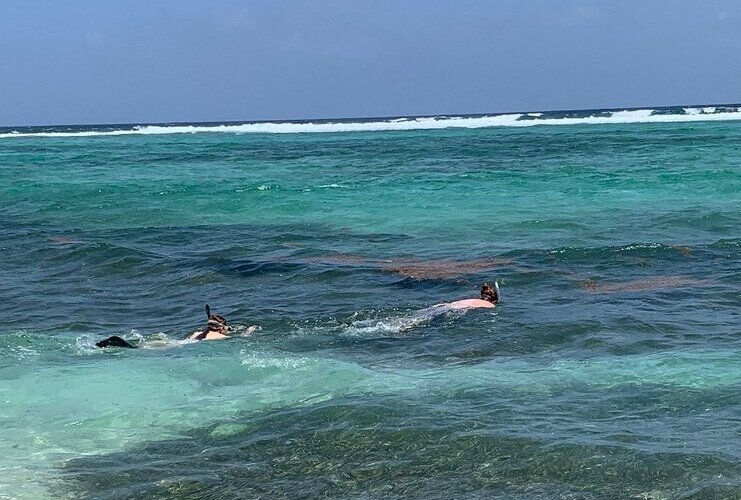 You can check out our article where we discuss the top 25 snorkel spots in Grand Cayman. In this article, you will learn about other snorkel spots that are better for beginners.
How deep is the water?
The water is about 6 to 10 feet deep at Spotts Beach.
It is too deep to stand once you start swimming offshore towards the barrier reef. We recommend that you use a life jacket or other floating device whilst snorkeling here.
When is the best time to go?
If you want to avoid the crowds, then the best time to visit Spotts Beach is during a week day (Monday to Friday) in the morning.
Spotts Beach is slightly more busy on the weekends. However, this is not a busy beach in general compared to other beaches in Grand Cayman like Seven Mile Beach.
Is there an entrance fee?
There is no entrance fee at Spotts Beach.
It is completely free to enter. All beaches in the Cayman Islands have free entry. People can own the land behind the beaches, but the beach itself is public.
Is there free parking?
Yes, there is lots of free parking at Spotts Beach.
There is a parking lot here, and even some shaded parking spots. Potentially on a weekend you may have issues finding an available parking spot, but during a week day in the morning there will always be parking available.
Final thoughts
Spotts Beach is a beautiful beach that you should definitely visit whilst vacationing in Grand Cayman.
The snorkeling here at the barrier reef is good, but should only be attempted by people with prior snorkel experience and the correct snorkel equipment.
If you are looking for other great snorkel spots, then you can check out our article where we review the top 25 snorkel spots in Grand Cayman.