The best time to go to Stingray City sandbar in Grand Cayman is in the morning. It is best to go on a day that has no cruise ships in port so that there are less crowds. 
When is the best time to avoid crowds?
If you want to avoid large crowds when visiting Stingray City sandbar, then you need to go very early in the morning.
Below is a video of a tour that goes to Stingray City sandbar very early at 7.30am:
Another way to avoid crowds is to visit Stingray City on a day when there are no cruise ships in port in Grand Cayman. You can check the cruise ship arrival schedule before booking your trip.
At what time will you see the most stingrays?
There are more stingrays at Stingray City sandbar in the morning compared to the afternoon.
The reason for this is that the stingrays are more hungry in the morning, so they come to the sandbar to be fed.
Most stingrays start to leave Stingray City in the afternoon as they have already eaten and aren't hungry anymore.
At what time does the water look the most beautiful?
The water looks most beautiful in the morning from 7.30am to 11.30am.
At this time, the water is crystal clear and turquoise blue. The sea surrounding Stingray City sandbar is less blue in the late afternoon.
What time is best for families?
If your family has kids & teenagers, then it is best to visit Stingray City at 10.30am.
A lot of kids don't want to wake up early on vacation, meaning that 10.30am is a more relaxed departure time.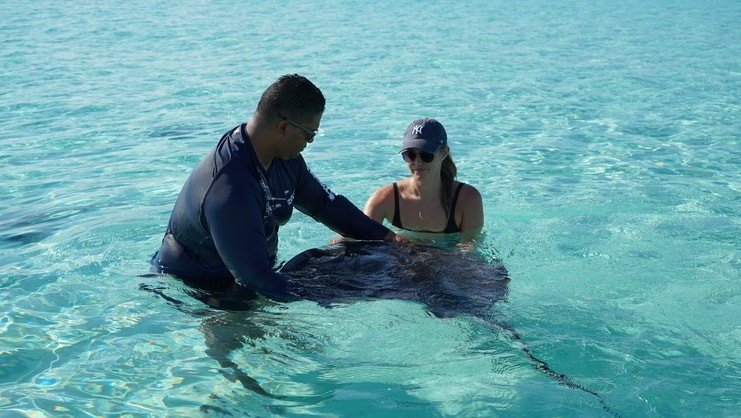 Final thoughts
If you don't like waking up early, then the best time to go to Stingray City is in the morning at 10.30am.
If you want to wake up early to avoid the crowds, then you should go to Stingray City at 7.30am.
Check out our article where we review the top 15 Stingray City tours in Grand Cayman.