In this article, we review the top 5 snorkel spots on Seven Mile Beach in Grand Cayman, Cayman Islands.
1. Wreck Of The Gamma
Wreck of the Gamma is a shipwreck located at the very southern end of 7 Mile Beach in Grand Cayman.
This wreck sunk only 20 yards offshore in the 1980s during a storm. It has been there ever since, and is one of Cayman's best kept secrets.
It is a little difficult to enter the water because there is iron shore in the surrounding area, but once in the water, it is easy to swim to the wreck.
There is a lot of fish here, and you can swim inside the wreck. It is also consistently calm here.
Click here to learn more about this wreck!
2. USS Kittiwake
The USS Kittiwake is an ex-US Navy ship that was purposely sunk a few hundred yards offshore from Seven Mile Beach in 2011.
The Cayman Islands government bought this ship to turn it into a new dive and snorkel site in Grand Cayman.
You can only snorkel or scuba dive here with a licensed tour company. You will see marine life ranging from groupers, turtles, barracudas, jacks and many other types of fish.
Click here to learn more!
3. Cemetery Beach
Cemetery Beach was given its name because there is a cemetery adjacent to the beach.
About 60 yards offshore is a dense area of coral where you can snorkel and see a wide variety of fish.
This is quite a far swim, meaning that you should only attempt this snorkel spot if you are with at least one other person. If something goes wrong, then your snorkel partner can help you.
Click here to learn more about this snorkel spot!
4. Cheeseburger Reef
Cheeseburger Reef is technically not on Seven Mile Beach, as it is located in the area between Seven Mile Beach and George Town.
This area is located about 40 yards offshore, meaning that you should only attempt this if you have prior snorkel experience.
There is a lot of coral and fish. This is also a popular dive site.
Click here to learn more about this spot!
5. Boggy Sands Reef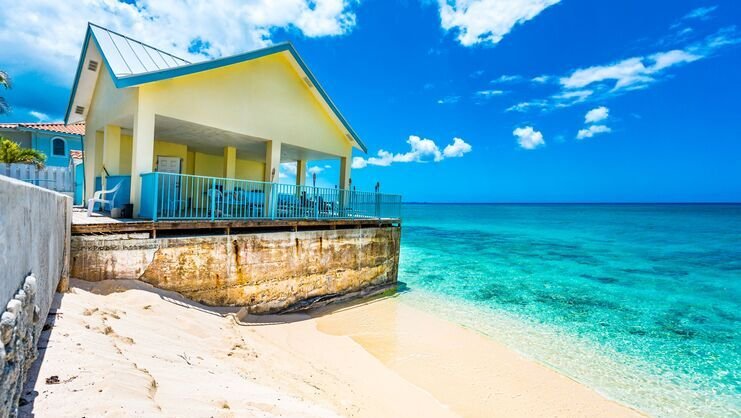 Boggy Sands Reef is located at the very north end of Seven Mile Beach.
There is a decent amount of coral and fish here, but it can be quite difficult to access the water. Also, you need to swim relatively far offshore to get to the good spots, so this isn't an easy snorkel spot for beginners.
Final thoughts
Seven Mile Beach is not great for snorkeling. The vast majority of Seven Mile Beach has little coral or fish.
There are a few interesting snorkel spots that we have mentioned in this article, but the best snorkel spots are near the barrier reef in the Stingray City area.
If you want to find better snorkel spots, then you can check out our article where we cover the top 25 snorkel spots in Grand Cayman!