In this article, we review the snorkeling at Smith Cove beach in Grand Cayman, Cayman Islands.
Where is Smith Cove located?
Smith Cove is a 5 to 10 minutes drive from George Town, in Grand Cayman.
It is too far to walk from the cruise ship port in George Town, so you would need to take a taxi if you are a cruise ship passenger.
If you are a tourist staying in a hotel or condo, then you can rent a car and drive to Smith Cove. There are no public buses running past Smith Cove, so taxi or car rental are your only options to get here. You can read our article here where we discuss why there is no Uber or Lyft in the Cayman Islands.
Below is a Google Map showing the exact location of Smith Cove:
Is the snorkeling good at Smith Cove?
Yes, the snorkeling is good at Smith Cove.
There is an area of coral about 30 yards offshore which has a lot of fish. The snorkeling here isn't amazing compared to snorkeling at the barrier reef, but it is good compared to most shore snorkel spots in Grand Cayman.
The best snorkeling in Grand Cayman is further offshore near the barrier reef. You need to take a boat to reach the barrier reef. Most Stingray City tours offer snorkeling at the barrier reef.
Below is a video showing snorkeling at Smith Cove:
Can you snorkel from shore?
Yes you can snorkel from shore at Smith Cove.
It only takes one minute of swimming to reach the area of coral that has most of the fish.
It is calm here 99% of the time, but occasionally when the wind changes direction, it can get rough. If it is rough, then you can't snorkel since the visibility in the water won't be good.
Can beginners snorkel here?
This is a great spot for beginners to snorkel at.
It is easy to enter the water from the beach, and it is only a short one minute swim to the area of coral where most of the fish are found.
There is also no boat traffic here, meaning that you don't need to worry about a boat hitting you in the water whilst you snorkel. It is also consistently calm with no waves.
We still recommend that you always snorkel with at least one other person so that if something goes wrong, you have someone to help you. If you are not a strong swimmer, then you should use a life jacket or floating device.
How deep is the water?
When you first enter the water, it is only 2 to 3 feet deep, meaning that you can stand up.
However, as you start swimming further out, the water drops to about 10 feet in depth. The area of coral which you can snorkel at is about 8 to 10 feet deep. It only takes about 1 minute of swimming from shore to reach this area.
Is there an entrance fee?
There is no entrance fee at Smith Cove.
All beaches in the Cayman Islands have free entry. There are even free public fresh water showers and restrooms at Smith Cove.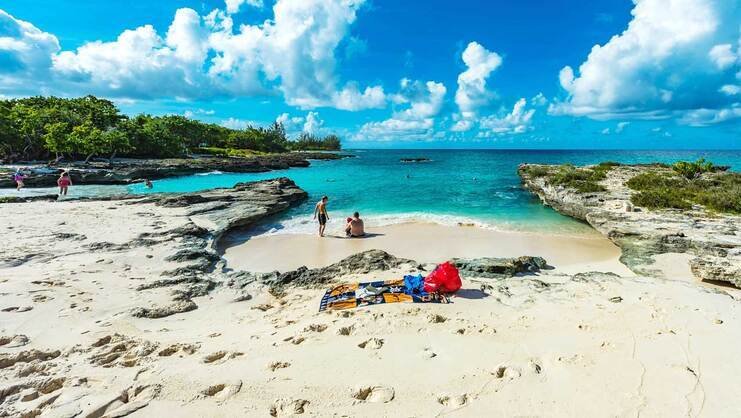 Is there free parking?
Yes, there is lots of free parking at Smith Cove.
Across the street is a parking lot that you can use.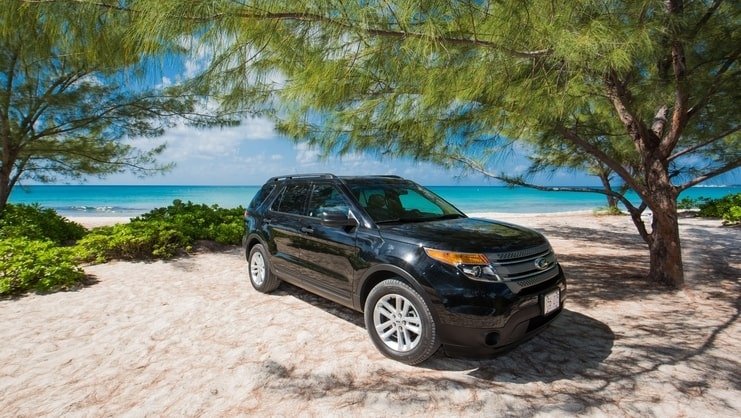 Final thoughts
Smith Cove is one of the most beautiful beaches in the Cayman Islands.
If you are vacationing in Grand Cayman, then you should definitely visit this beach. Even if you don't like snorkeling, the beach itself is worth visiting.
Smith Cove can get very busy after 5pm because people go there to watch the sunset, so it is recommended that you go during a weekday in the morning to avoid crowds.
If you can go on a day where there are no cruise ships in Grand Cayman, then that is even better. You can check the cruise ship schedule here.
The quality of snorkeling at Smith Cove is good, but not the best. You can check out our article where we discuss the top 25 snorkel spots in Grand Cayman to learn about other spots.