Everything That You Need To Know About Smith Cove In Grand Cayman
Smith Cove is one of Cayman's most popular beaches.
This beach is the closest to a lagoon that you will find in the Cayman Islands.
The beach at Smith Cove is located on a beautiful cove, which means it feels cozy and peaceful. It is a secluded part of the beach near George Town.
It is less than a 10 minute drive from central George Town. About 15 minutes from West Bay and from East End it may take you up to half an hour, depending on your starting location.
Smith Cove Grand Cayman Map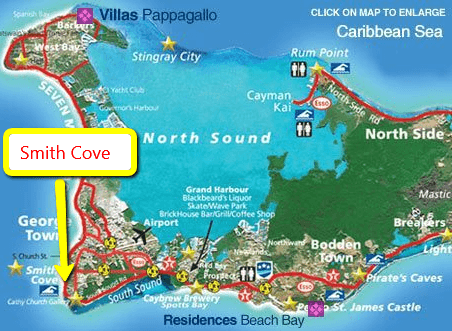 Smith Cove is located at the start of South Sound and George Town.
Smith Cove does have some coral to snorkel at, but the best snorkeling spots are reached by boat further offshore.
If you are a complete beginner, then you are better off doing a guided trip, since it could be dangerous snorkeling by yourself without any experience. Click the "Continue" button below to be taken to a page showing the best snorkeling trip in Grand Cayman:

The residential area of South Sound, makes for this beach to be very safe, but it is difficult to access via public bus. Smith Cove Grand Cayman directions are easy to find; just ask anyone in the area and they will help you. You would have to take a bus to George Town Central Bus Station and then walk up to 35 minutes to get there.
Therefore, renting a car and driving is the most advisable way to get there. It is also possible to take a taxi and the taxi driver will know where this beach is because it is a very famous beach on the island.
Smith Cove has always been a traditional favorite beach among the locals.
It is a unique scenic spot on Grand Cayman because of the iron shore along side of the beach (big rocks along side of the beach).
Other beaches, like Seven Mile Beach do not have this stunning rock formation which makes the Cove like effect. There are also many stunning sea grape trees at this beach. This is another different feature of this beach because the other beaches on the island do not have as many sea grape trees.
Therefore, there is lots of shade and picnic benches on this beach, which makes it perfect for families and people who want the option to sit in the shade.
Many people flock to this beach because of its stunning view.
There is good shore snorkeling at this location. Many people enjoy snorkeling here because it is possible to see some tropical fish, quite close to the shore.
You can also find lots of soldier crabs and hermit crabs at this beach, which is very interesting. These crabs are beautiful, but be careful not to pick them up because that will disturb and cause stress to the crabs.
Look carefully under the fallen sea grape leaves and you will be able to spot plenty of them. Hiding under the sea grape leaves there are also many red bugs called "Love Bugs", which are harmless and very beautiful. Some people enjoy jumping off the side of the rocks at Smith Cove, but be mindful of others if you are intending on doing this.
It is recommended to visit Smith Cove Grand Cayman location in the early morning to avoid large crowds and to enjoy the serenity of this beach. On the weekend and when there are cruise ships it can be very busy.